Lanton Quarry
Welcome to the Lanton Quarry archaeology homepage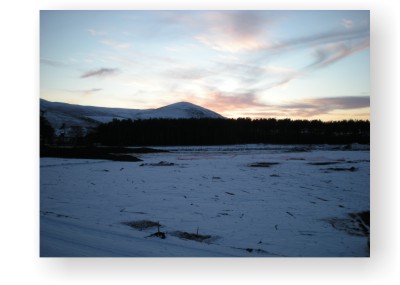 A winter view across Lanton Quarry after removal of the ploughsoil. Yeavering Bell, the highest of the Cheviot peaks fringing the Milfield Basin, is in the background
This website tells the story of the exciting archaeological remains discovered at Tarmac's Lanton Quarry and the important new insights they have provided on Britain's past. The quarry is worked for the high quality sand and gravel only available in this part of Northumberland and these are used in a wide variety of applications to sustain our modern lifestyles and infrastructure.
Between 2003 and 2009 ARS Ltd. carried out archaeological fieldwork at the site that aimed to record the surviving artefacts and structural remains, mostly as buried features cut into the sand and gravel and artefacts scatters within the overlying ploughsoil. The large quantity of information that has been gathered so far is telling us in incredible detail how people lived in the past and how they would have exploited the landscape.
This website provides information on how the excavations were carried out and what they can tell us about our ancestors.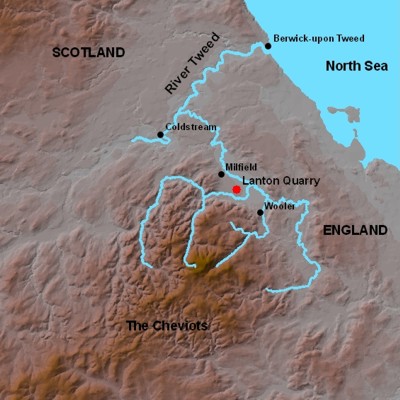 Location map of Lanton Quarry
The Milfield Basin is located in North Northumberland approximately 10 miles from the Anglo-Scottish border.
The site lies on a flat sand and gravel terrace overlooking the floodplain of the River Till making it a very fertile place. This location would have appealed to settlers in the past not only because it was a good place for growing crops and looking after animals, but also because the sand and gravel terrace is free draining and not at risk from flooding.
The Cheviot Hills act like a shield to the Milfield Basin, taking the worst of the weather which normally comes from the south-west. This 'rain shadow effect' can sometimes make it warmer and drier than other parts of Northumberland. All of these reasons help explain why this area was attractive to earlier populations and why the site of Lanton Quarry is so important in telling us about the past.
Other archaeological sites in the Milfield Basin that have produced important information include Tarmac's Cheviot Quarry, the Royal Anglo-Saxon settlement at Yeavering and the site at Thirlings amongst many others. In recent years this region has been studied in detail by archaeologists and various publications summarising this work for both popular and academic audiences are now available.
Read more about Tarmac's positive impact on the environment in Tarmac's Annual Sustainability Report.
| | | |
| --- | --- | --- |
| | | |
| Fragments of a Neolithic bowl after pieces have been reassembled | A polychrome glass bead found at Lanton Quarry dating from the Anglo-Saxon period | A metal hook as it was found on site and as it appeared after being x-rayed |