Evaluation
An evaluation involves the excavation of one or more trenches in order to sample an area for the presence and extent of archaeology on a site and to asses its significance. Depending on the results of an evaluation, the planning authority may decide that further archaeological investigation is necessary, usually as a condition attached to the granting of planning permission. Archaeological evaluations are usually undertaken as part of the pre-determination phase of a planning application with permission being granted subject to the results of the evaluation, although they are sometimes attached to a planning consent as a condition. Archaeological Research Services Ltd undertakes evaluation trenching throughout the UK on rural and urban sites ranging from deep, confined urban building plots to large brownfield and greenfield development sites of several hundred hectares. We accurately position and georeference our trenches, excavating them quickly, efficiently and safely to minimise cost and time spent on site. We always aim to undertake our trenching using a targeted, question-led approach so as to provide only the essential information necessary to inform a planning decision or discharge a planning condition.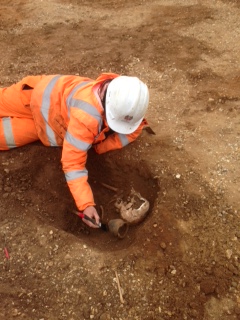 Excavation and Strip, Map and Sample
Archaeological excavation is usually carried out following a desk-based assessment, geophysical survey and/or evaluation trenching. During excavation sites have the overburden removed down to the first intact archaeological horizon which is exposed, cleaned and then deposits and features excavated and recorded. For large areas where a significant quantity of archaeological remains is anticipated then a 'strip, map and sample' approach may be adopted where features are target-sampled to answer specific questions rather than the entirety of all features excavated. This saves time and money whilst focusing on the key information the site can yield to further understand and document the site's significance. Although destructive, excavation is often the most informative field technique and usually takes place when archaeology would otherwise be destroyed. As excavation is labour-intensive and throws up more post-fieldwork analysis than other techniques, it tends to be the most expensive type of archaeological work.
Archaeological Research Services Ltd has a longstanding record in archaeological excavation for commercial, research and community projects. We are able to respond quickly to the requirements of our varied client base to provide high-quality tailored solutions for large rural and deeply stratified urban sites ranging in size from small-scale work to large-scale infrastructure projects.
Watching Brief
A watching brief can be intermittent or continuous and involves the presence of an archaeologist on site who supervises and records machine stripping or hand excavation as part of development or construction works. The archaeologist will then record any archaeology that may be exposed during such works. Watching briefs are usually undertaken as a condition attached to planning consent when a site is deemed to warrant the recording of any archaeological remains that may be encountered as development progresses.
Watching briefs are a staple of Archaeological Research Services Ltd's offer and we routinely carry out watching briefs throughout the UK. We sometimes carry out emergency watching briefs in response to situations such as burst water mains, landslips, gas pipe work and so forth.
Survey
Surveys can take a variety of forms from site walkovers to detailed recording of ancient earthworks and landscape topography. Earthwork surveys are employed to record features such as banks, ditches, trackways, channels, ponds and walls which have become partially filled in or obscured by vegetation. Surveys are non-intrusive requiring no ground disturbance. Where archaeological remains survive as upstanding features above ground, site survey is usually the first field technique employed to provide the initial base-line record. Surveys can often be enhanced by reference to aerial photographs, old maps and geophysical surveys which help to show large features more clearly as well as the presence of buried features.
Archaeological survey is specialist work and at Archaeological Research Services Ltd we have highly trained surveyors who have expertise in identifying and surveying archaeological features in a wide variety of settings and of widely different type, as well as having highly developed surveying skills. We have survey and mapping grade GPS units as well as total stations to ensure the accuracy of our work. Key types of survey typically undertaken include earthwork survey, topographic survey, contour survey and rapid walkover survey. We also undertake building surveys but this service is described on a separate page as it forms a specialism in its own right.
Fieldwalking
Fieldwalking involves the systematic recovery of finds from the surface of ploughed fields by a team of archaeologists, and the recording of their position with a surveying instrument (GPS or total station). At ARS Ltd a methodology for fieldwalking has been developed which involves the interpretation of artefact scatters in relation to the slope profile of the field, ensuring a more accurate assessment of the location of archaeological activity, given that the artefacts will have been moved as a result of gravity and plough action over time.
Fieldwalking is a rapid and cost-effective technique which allows for 'broad-brush' archaeological evaluation and landscape characterisation over large areas. It can be used prior to evaluation or excavation to inform on where the highest concentration of buried archaeological features are likely to be, the date and nature of any buried sites, and for sites that have been completely ploughed out it can also provide the only record of what was there prior to the soil being stripped away by machine.
Test Pits
Test-pitting is often used alongside other forms of archaeological investigation to test for the presence of sub-surface archaeology, particularly in areas where there is either confined space or where the ground surface has not been broken up - for example on areas of pasture. It is also a useful technique for recording soils and geomorphology and to obtain sediment profiles. Test Pits can vary in size, although they are usually excavated in spits by hand and the contents of each pit is usually passed through a sieve to maximise finds recovery.