Consultancy
Archaeological Research Services Ltd (ARS Ltd) have a specialist heritage consultancy team experienced in providing expert advice and high quality documents in support of all kinds of development and planning matters. Our practical, clear and solution-focused approach has allowed us to build a reputation for excellence and for facilitating successful developments amongst our client base. Please do not hesitate to give us a call and speak to one of our consultants for a no-obligation discussion and straight-forward advice.
Desk-Based Assessments
A Desk-Based Assessment (DBA) will typically collate data from county Historic Environment Records (HERs) and the Historic England/CADW/Historic Scotland Archive, maps and plans of the area (both modern and historical), aerial photograph evidence, place-name evidence, geological information, and any archaeological literature relating to previous investigations on or near the site. The Desk-Based Assessment will also consider the potential impact that a proposed development will have on the significance of any heritage assets in and around the study area.
As the first phase of a process, Desk-Based Assessments (DBA) are of great importance in any development project as they drive and shape any subsequent evaluation and/or mitigation work. It is therefore important to commission an in-depth, accurate and fully considered DBA in order to secure the best possible evidence base to reduce your risk and identify the most appropriate and cost-effective pathway that targets, and keeps to a minimum, any subsequent evaluation or mitigation whilst delivering a sustainable outcome. At ARS Ltd we pride ourselves on the thorough and professional service we offer to clients, producing high quality, tailored DBAs coupled with sound advice from the outset.
Heritage Statements
'Local Planning Authorities should require an applicant to describe the significance of any heritage assets affected including any contribution made by their setting' (Para 128 of the National Planning Policy Framework).
Heritage Statements (sometimes referred to as Statements of Significance) are typically required for any planning applications which could affect designated heritage assets such as Scheduled Monuments, Listed Buildings, Conservation Areas, and Registered Parks and Gardens, or known archaeological sites or buildings of local interest.
A Heritage Statement could be included within a wider Desk Based Assessment, Environmental Statement or Design and Access Statement, or can form a stand-alone document. The amount of information that needs to be included will vary according to the form of the development proposal, and the nature of the asset(s) affected, but should contain enough information to enable the local planning authority to make an informed decision regarding the planning proposals.
The Heritage Statement should assess the heritage significance of the heritage asset(s) affected using appropriate expertise. Significance is defined as the value of a heritage asset to this and future generations because of its heritage interest. This interest could be archaeological, architectural, artistic or historic. An assessment of the impacts of the development proposals on this significance will be required within the Heritage Statement, along with proposals to mitigate any impacts identified.
ARS Ltd has in-depth expertise to tailor Heritage Statements to each individual client's needs, providing the necessary detail to assess heritage significance in line with the guidance issued by heritage bodies such as Historic England, and to provide sound advice to clients regarding suitable strategies to mitigate any impacts identified. We are also committed to identifying the the most cost-effective route that satisfies planning requirements whilst at the same time limiting financial exposure and timetable risk for the development. This is provided within the context of delivering a sustainable development that can typically include public benefits and corporate social responsibility (CSR) outputs.
Environmental Impact Assessment
For certain developments, due to their size or type, there is a statutory requirement under the Town and Country (Environmental Impact Assessment) Regulations 2011 to undertake Environmental Impact Assessment (EIA) via the production of an Environmental Statement (ES). Initially, the local planning authority will issue a Screening Opinion which will identify whether a proposal constitutes EIA development or not. If EIA is required, a Scoping Opinion will be sought from the planning authority in order to identify what topics and disciplines will need to be addressed in the ES.
ARS Ltd typically provides input from the outset of an EIA project, providing informed, expert advice regarding the likely scope of works, for example inputting into a Scoping Report to help the planning authority reach an informed decision regarding the scope of the ES. It might be possible to 'scope out' the Cultural Heritage topic from the ES if the proposed development area has been previously disturbed and it can be shown that the settings of heritage assets in the vicinity would not be affected. If a Cultural Heritage chapter is required (i.e. it is 'scoped in'), our Consultancy Team is highly experienced in preparing Cultural Heritage chapters in line with national planning policy and industry best practice. Whether the scope of the required Cultural Heritage assessment is confined to assessing the impact to a single Scheduled Monument or Listed Building, or assessing impacts to multiple heritage assets and extensive buried archaeological remains, ARS Ltd has the expertise to produce robust assessments tailored to meet our clients' needs. Our EIA work is supported by our highly experienced geographical information systems (GIS) specialists.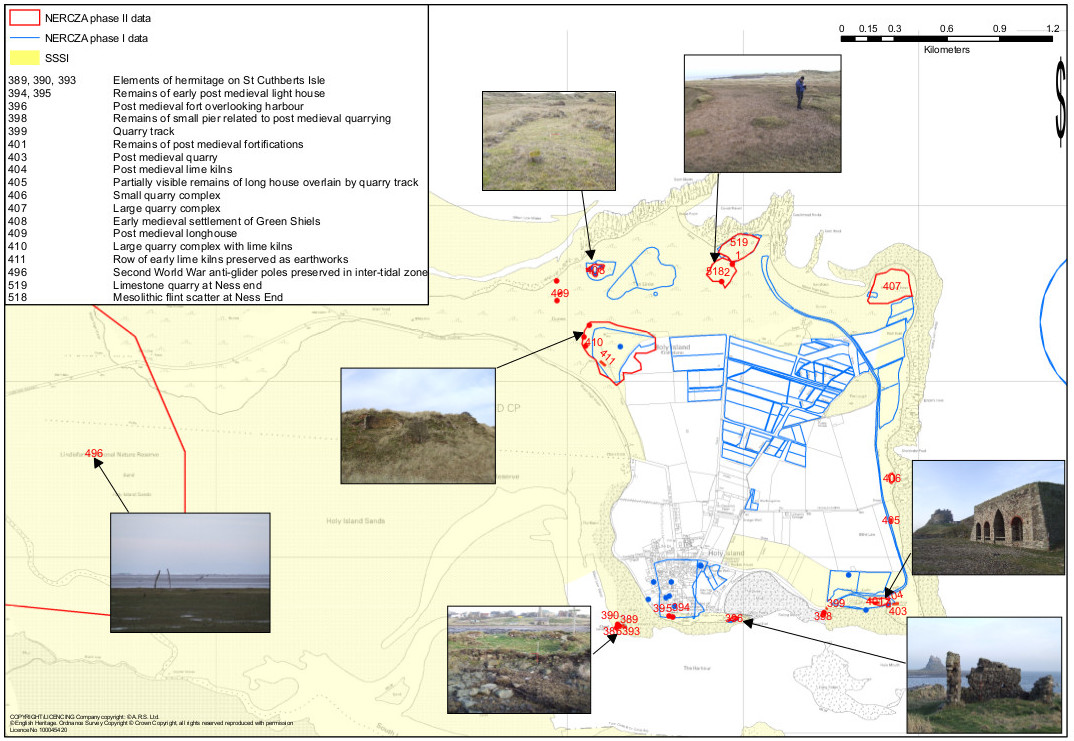 Setting Studies
Certain developments might produce impacts to the settings of important heritage assets such as Scheduled Monuments, Listed Buildings, Conservation Areas, Registered Parks and Gardens or other non-designated remains. The settings of these heritage assets receive statutory protection under the National Planning Policy Framework (NPPF) and therefore in these instances detailed assessment of the setting of such assets will be required.
Setting is described in the NPPF as 'the surroundings in which an asset is experienced', and expertise is required to identify what is significant about a particular heritage asset, the nature of its setting and to what degree that setting contributes towards its significance. An assessment can then be made of the nature of the potential impact of a proposed development upon the setting, and whether, and to what degree, this will affect the significance of the heritage asset.
We have a wealth of experience assessing setting issues for clients in diverse sectors. We routinely use techniques such as GIS and the production of Zones of Theoretical Visibility (ZTVs) to identify from where a particular development could be visible, and thereby identifying which, if any, heritage assets could be affected. Site visits are subsequently undertaken to 'ground-truth' the results of the ZTV and assess the nature of an asset's setting. Robust setting studies are an integral part of a range of heritage documents, such as Desk Based Assessments, Heritage Statements, Statements of Significance and Environmental Statements, and we have the expertise and experience to provide cost-effective assessments targeted to our clients' requirements to deal with setting issues and integrate with the above Statements to help facilitate development.
Mitigation Strategies
For any development project that has the potential to impact upon heritage assets, it will be necessary to provide proposals that will serve to mitigate these impacts, thereby off-setting any potential harm. Proportionate mitigation strategies can be a vital component of successful planning applications, and identifying impacts and designing mitigation solutions up front is a sure way to help smooth projects through the planning process and assist project delivery and avoid delays.
Mitigation can range from avoidance (for example by identifying the locations of sensitive heritage assets early on in a scheme and designing developments accordingly), to excavation of archaeological sites and the publication of the results. Other strategies might involve the design of public information outputs, thereby off-setting harm by better revealing its significance and contributing to a greater public appreciation and understanding, in line with national planning policy.
ARS Ltd has years of experience in the successful design and delivery of mitigation strategies for our clients who have utilised our specialist services as part of the development process. We offer a range of cost-effective solutions and approaches specifically targeted to match the needs and proportionality of the development, whilst also serving to satisfy planning requirements.